Here's what you should know when living off-campus
Getting your first apartment is a pretty typical right of passion for college students these days. Moving out of your parents' place or student housing is exciting. But there are a few important steps to making the dream of your own domain a reality. Beyond finding a place you and your roommates can afford, you need to set up your utilities so they are ready and turned on by move-in day. Here are a few things to think about before move-in day.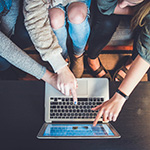 The list. Some rentals include utilities within your rent payments; others don't. The basics gas, electric, water/sewer, phone, trash, and cable/internet. Water is probably the most common to have lumped into rent in an apartment but might not be included if you're renting a house. Be sure to check before you sign a lease and make a list of which utilities are your responsibility.
Although it is uncommon, not every place will have gas. Some rentals have electric heat. If your lease mentions heat, more than likely it is gas heat and included in the rent. This is common in houses that were converted to multiple apartments. Don't expect to be able to control your own heat in this case.
Three to four weeks. That is how far out before moving in you should figure out who your utility providers are. Sometimes it can take a bit of research, especially for trash. Some places it is provided by the city and included in taxes; others you have a specific waste company that services your area. If you have any questions, your landlord should be able to help.
Two weeks. At this point, you should contact the utility providers. Some have online portals you can use, others it will be a phone call. If you or one of your roommates already has an account you might want to transfer service from that current place to the new rental. Otherwise, you'll need to set up new service.
A few things to keep in mind:
You may need to prove to your landlord that you set up service. Keep any emails or papers related to your new account.

Check that there are no existing accounts linked to the new address. Mistakes happen on the utility companies end or people simply forget to turn off service.

If you're transferring service, double-check that the utility has you scheduled to shut off your old service to avoid two bills.
Move-in day. On the day you get your keys from the landlord, which should be the same day all the utilities should be working, double check them. Turn on every switch and check outlets (you can get an outlet tester for about $6 or just use a lamp). Turn on the sinks and flush the toilets to make sure the water is running. Even if it's summer, turn on the heat for a second to make sure the furnace kicks on. Check the phone/cable/internet too. As a student, the internet is going to be important. Trash is the only one you're going to have to wait on, but if there are bins, you're probably ok.
By double checking that everything is on, you'll know if there are any problems you should tell the landlord about. If the furnace doesn't kick on, that could be a problem. Water leaking from the base of the toilet needs to be addressed. Faulty outlets can be a fire danger.
It might not seem like a lot, but this is a huge part of growing up. You're going to need your utilities working on day one. And working with utility companies is good practice. Later on, you might need to call them to renegotiate your payments, so get used to communicating with them now.